Making dreams a reality doesn't have to be difficult. It only requires a few things:
Believing in yourself.
Mapping your dreams.
And taking small action steps everyday.
Here is a few steps how to achieve my visions.
1. Create A Life List
"Happiness is like a butterfly; the more you chase it, the more it will elude you, but if you turn your attention to other things, it will come and sit softly on your shoulder…" ~Thoreau
Write down everything I have been dreaming of doing in my life. Life list is a place to record our dreams; a place where we can be accountable to ourselves.
Once I created
my life list
, something magical happened. I started to make my dreams a reality by completing once small task everyday. There is something powerful about the act of writing down your dreams on paper. They feel more tangible and real.
2. Turn Dreams into Reality

"Whatever you do, or dream you can, begin it. Boldness has genius, power and magic in it. Begin it now." ~W.H. Murray
By writing down my dreams, I have taken a number of steps towards making them a reality. For instance, since I wrote my life list last year of becoming a chemical engineer. I studied hard during my school years and happily saying I am what I have been planning during these past few years. The idea of me becoming a chemical engineer is slowly becoming true. I am studying in chemical engineering course now and I will make sure I will finish my studies with flying colour and get a good job.
Anything is possible, you just have to make it a priority.
3. Make A Vision Map
"Whatever the present moment contains, accept it as if you had chosen it." ~Eckhart Tolle
A vision map is one way to help define and visualize what I want my future to look like. It's one way to make my dreams and goals tangible.
Creating a vision map is fun and simple. I only need:
Crayons or colorful pens
Magazines
Scissors
Glue
Poster board
Start going through the magazines and look for images that resonate with me. Once I find the images, cut them out and glue them onto the poster board. The options are endless.
Think about my vision map and consider creating a time-line for the future I see.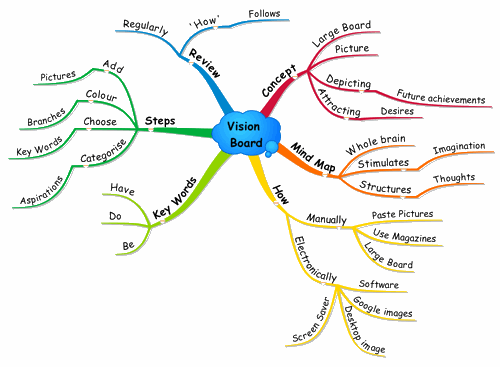 4. Focus on Daily Intentions
By narrowing down my to-do list, I can accomplish a lot. This is a simple and easy way to increase my productivity and embrace my creative genius. By focusing on a few small steps everyday, I will get closer to accomplishing the tasks on my life list. Remember to focus on activities that make me happy.
5. Start Loving Life Now
Working on my life list, vision map and daily intentions is a lot of fun. Setting goals and making plans is a positive activity. However it's essential to live mindfully.
Sometimes goals won't be accomplished and that's okay. I think we all have a tendency to get wrapped up in future plans. It's easy to forget how amazing life is.